NAVLIN Revenue Management
Integrating gross-to-net into the commercialization ecosystem
NAVLIN Revenue Management brings together all critical revenue management operations, along with the power of NAVLIN Price & Access Data, to deliver efficient, intuitive, accurate and compliant tracking and reporting – all in one innovative & integrated digital platform.
+50

Active Clients

+1,500

NDCs Managed

+100

Validations Performed

6 weeks

Average Implementation Time
Key Features
NAVLIN Revenue Management
Rebates

Store critical rebate details such as rates, products, plans and timeframes to ensure integrity of data from contracts through payments, and retain key information at individual claim level to drive improved analytics.

State Drug Price Transparency

Support compliance with State Drug Price Transparency regulations by analyzing WAC price changes and subsequent reporting requirements.

Chargebacks

Support accurate processing of chargeback requests using over 40 standard validations with turnaround time of 2-3 business days.

Government Pricing

Manage, calculate and report government prices in an auditable and configurable way with modular, reusable calculations and multi-layer filters to reduce the margin for error.
Experience
The NAVLIN Difference
Fast

Latest platform technology provides faster processing times that accelerate implementation and future contract generation.
Integration of State Drug Price Transparency with NAVLIN Price & Access Data enables fast, accurate analysis.
Quick turnaround time on chargebacks processing
Leverage existing EDI relationships with wholesalers

Efficient

Artificial intelligence saves time by proposing key data elements for rebates.
Rebates upload function reduces manual entry.
Export State Drug Price Transparency reports in file formats required by each state.
Prepare for adoption of State Drug Price Transparency reporting requirements by additional states.
Apply multi-layer filters across multiple Government Pricing buckets to reduce manual updates.

Comprehensive

Storage of claims-level data for rebates.
Rebates insight tools support informed, strategic decision making.

Easy-to-use

Simple navigation with training in days, not months.
Download any Chargeback transaction at any time.
Clear, custom price lists for Chargebacks.
Limited need for updates to Government Pricing calculations
Government Pricing formula builder uses nested, conditional operators.

Scalable

Service & support to meet your individual needs.

Compliant

Government Pricing module creates audit trail not possible with manual entry.
Modular, reusable calculations for Government Pricing that reduce margin for error.
Ecosystem
NAVLIN Revenue Management is part of the comprehensive NAVLIN Price & Access ecosystem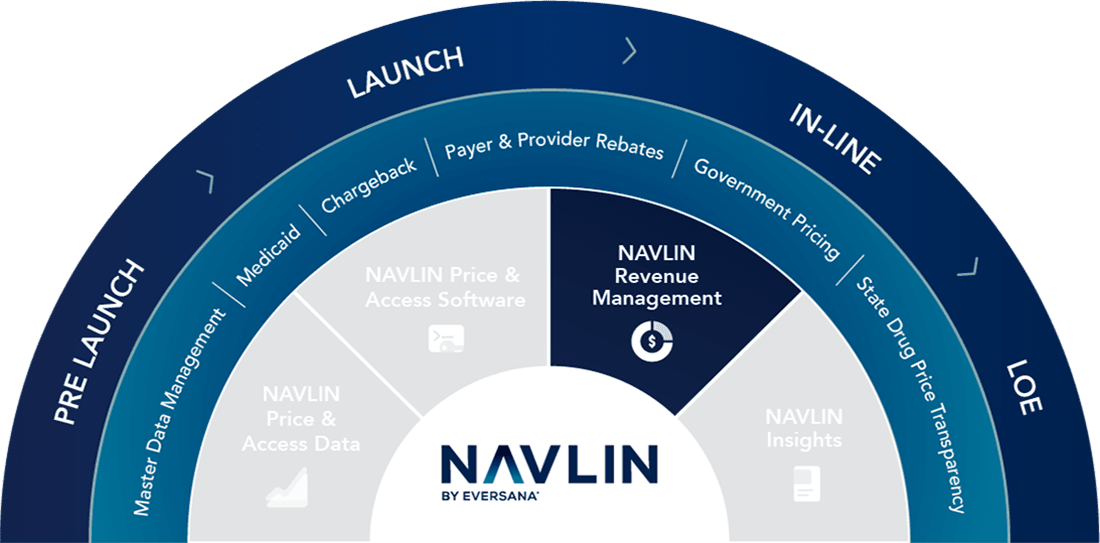 Contact Us
Connect With the NAVLIN Revenue Management Team