NAVLIN Price & Access Software
Driving Successful Pricing Governance Decisions Across Global Markets
NAVLIN Price & Access Software provides the most accurate and comprehensive enterprise software solution to address global pricing challenges for pharmaceutical manufacturers.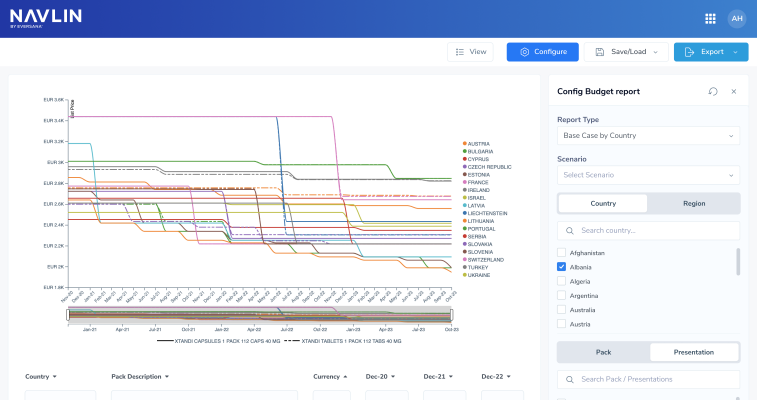 100+

countries' reference rules tracked.

$100B+

in revenue priced globally by NAVLIN

10,000

SKUs under price management

100,000+

price point decisions analyzed within NAVLIN to date

ISO 27001

Security certification
Key Features
NAVLIN Price & Access Software
NAVLIN Price & Access Software enables you to model and visualize price scenarios and control pharmaceutical pricing governance decisions across global markets with an easy-to-use workflow process.
Global Price Management

Integrate existing price and access data with the NAVLIN Price & Access software to take control of global pricing strategies.

Launch Sequence Optimization

Optimize pricing through the launch cycle by understanding and optimizing pricing impacts across markets.

International Reference Pricing (IRP)

Support product and portfolio price forecast analysis with advanced features like Monte Carlo simulation, breakeven analysis, and other features.

Contract & Tender Management

Manage your contracts and tenders through the full life cycle, from discovery, shaping and pricing to compliance.

Gross-to-Net

Analyze for net prices, contributors to average net selling price erosion, and forecast-to-actual pricing.

Price Certificates & Compliance

Monitor price accuracy, generate price certificates and manage national and state-level drug transparency reporting.
Experience
The NAVLIN Difference
Launch Confidence

Optimize your launch with country sequencing, and benchmark your launch against our database of launches while also tracking competitor prices and changes in market landscape.

Smarter, Faster Pricing

Forecast your entire portfolio at once with our IRP module, run multi-variable scenarios, discover price floors and easily forecast patent expiry impact.

Tender Management

Gain visibility to upcoming tenders directly from tender sources, track and shape tender criteria, model a full range of discounts with easy-to-set terms, analyze and simulate contract and tender pricing, and predict competitor bids and trends.

Price Accuracy and Compliance

Manage price changes with full control and compliance, flag affiliate-reported prices that vary from public sources, automatically generate local price certificates, and manage state drug transparency reporting.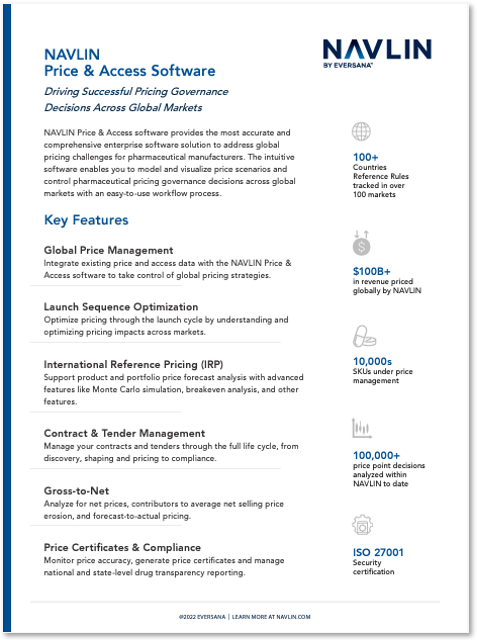 NAVLIN Price & Access Software
Download additional information on the features and benefits of NAVLIN Revenue Management.
Ecosystem
NAVLIN Price & Access Software is part of the comprehensive NAVLIN Price & Access ecosystem
Contact Us
Connect With the NAVLIN Price & Access Software Team