New Patient Access – Biosimilar Boom Research Now Available
Posted on
July 18th, 2023
7/18/23
Specialty Pharmacies and the Biosimilar Boom
Understanding the various revenue streams of Specialty Pharmacy (SP) network partners is the key to identifying how biopharma can best incentivize SPs.  A critical success factor for biosimilars is the ability to deploy unique contracting strategies that will not affect Average Sale Price (ASP).
In the latest research from NAVLIN Insights, track the evolution of SP strategies and identify the strategic imperatives biopharma should consider when developing an SP network for biosimilars and compare commercialization strategies that biopharma implement for biosimilars versus originator brands.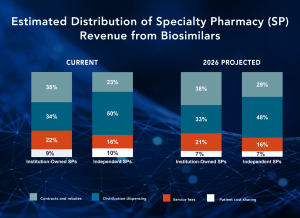 A full report with additional insights is available as part of the NAVLIN Insights subscription. Contact us at insights@navlin.com for access and to learn more about NAVLIN by EVERSANA and our innovative market research solutions.