Department of Health and Human Services Releases Intended Targets for Medicare Price Negotiations
Posted on
August 31st, 2023
8/31/23
Surprises and Unanswered Questions in the List of Drugs Selected for Direct Negotiations
What happened?
The Department of Health and Human Services (HHS) released its intended targets for Medicare price negotiations on August 29, 2023, putting affected biopharmaceutical companies on official notice for lower Medicare reimbursements in 2026 (and possible market repercussions more immediately).
Need more context?
HHS Direct Drug Negotiations are a landmark policy component from the Inflation Reduction Act (2022), marking the first time the Medicare program will be empowered to negotiate with manufacturers for drug prices.
Exclusions apply to for drugs with available "bona-fide" generics or biosimilars (or those marketed prior to August 1, 2024) and/or those with limited market tenure: 9 years for small molecule drugs and 13 for biologics. In July guidance, CMS stated that "de minimis" availability of generic or biosimilar products in the marketplace will be insufficient to establish bona fide marketing, though a threshold for market share was not set. CMS will review the "totality-of-the-circumstances" to decide the legitimacy of the generic or biosimilar competition.
Manufacturers of selected drugs will undergo a negotiation process with HHS to set a Maximum Fair Price (MFP), which has a minimum discount ranging from 25% to 60% based on market tenure. MFPs for selected drugs will be announced in September 2024, with pricing effective in CY 2026.
Who is impacted?
Selected drugs, listed below, span nine manufacturers, with only one—Janssen (a subsidiary of Johnson & Johnson)—affected across multiple drugs. Spending for the drugs tops of $50 billion for the drug cost collection period used by HHS (June 2022 through May 2023), prior to rebates.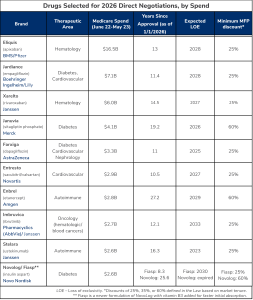 The Surprises
Stelara's inclusion on the list was unexpected as biosimilars are expected to launch in 2025, as was Novolog, which is set for an interchangeable biosimilar in 2026, and Farxiga, which was not expected to be subject to negotiations until 2028.
Several selected drugs deviate from what the market expected based on the latest publicly available Part D drug spend data (2021). Two asthma/COPD drugs—GlaxoSmithKline's Breo Ellipta and AstraZeneca's Symbicort—are notably absent, as are two oncology products, Pfizer's Ibrance (breast cancer) and Astellas' Xtandi (prostate cancer). All are likely to make the list for 2027 negotiations.
Two of the less surprising brands on the list are anticoagulants Eliquis and Xarelto, which have been consistently among the most expensive Part D drugs for years. (Eliquis outpaces all other drugs by more than double.) Both face a minimum discount of 25% beginning in 2026, with Xarelto patent expiration coming a year before Eliquis (2027 vs. 2028). In a category that already faces deep rebating of 40-50%, CMS is likely to apply discounts at a much higher rate than the MFP. Given that Eliquis market share is twice that of Xarelto despite price per beneficiary nearly equal, negotiated price differentials will be telling.
Diabetes is well-represented, with one collection of insulins plus three oral diabetes drugs (one DPP-4 inhibitor and two SGLT2 inhibitors) selected. The lone DPP-4 inhibitor, Januvia, faces a minimum discount of 60%, but only for one year given its exclusivity ends in 2026 (assuming no patient extensions). Competitors Farxiga and Jardiance are targeted for MFPs of at least 25%. The potential differential or non-differential in these two discounts will certainly impact dynamics within the SGLT2 inhibitor class.
Novo Nordisk's insulin apart drugs Fiasp and its baseline product Novolog, which have the lowest per beneficiary cost on the list and are already the subject of an IRA policy allowing seniors to pay no more than $35 per month out-of-pocket, are also on the list. Novo Nordisk has already announced a 75% reduction in Novolog costs that will go into effect in 2024. Considering this shift in prices, Novo may find itself in a situation where negotiation is not necessary, as it has already adjusted prices below the expected MFP discount.
Many analysts anticipated oncology agents to be among the hardest hit in direct negotiations for 2026, with at least three brands among the top of CMS spending. But only one oncology agent, Imbruvica – a BTK inhibitor with blood cancer indications as well as treatment of chronic graft versus host disease, was selected for the inaugural list. While it is only targeted for a minimum of 25% discount, this may prove significant in the market given limited contracting within the oncology market to date, a trend due to concerns around sensitivity and complexity to treat as well as their protected class status. Perceptions of limited clinical differentiation in the BTK inhibitor class (likely reinforced by AbbVie's recent patent infringement lawsuit filed against BeiGene) could impact Imbruvica's ceiling price offer from CMS, though there may still be hesitation to aggressively negotiated drugs in oncology market for fear of impacting innovation in a market with unmet medical needs.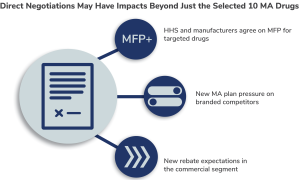 Downstream Effects
MFPs, assuming they stand up to the courts' interpretations, may have impacts beyond just what is defined in the IRA. Non-targeted brands in affected therapeutic areas will likely face altered competitive dynamics as a result of negotiations. Diabetes, hematology, and perhaps autoimmune will be particularly reshaped by this first round of negotiations. Additionally, some competing brands, most notably Humira vis-à-vis Enbrel, do have biosimilar competition, raising the question of whether MFPs will be aggressive enough to drive additional competition.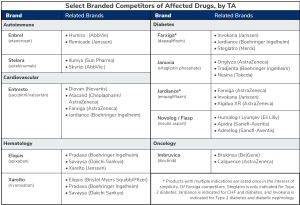 All eyes are on the CMS and pharmaceutical company negotiations in the coming year and the related legal arguments attempting to put a halt to them. Our subject matter experts are available to present current findings, including payer expectations for additional IRA policy impacts, and to collaborate on projections for your particular brands as additional details emerge.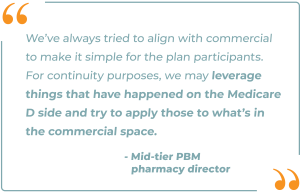 Contact us at insights@navlin.com to learn more about NAVLIN by EVERSANA and our innovative market research solutions.