Custom Access
NAVLIN Insights' custom solutions help you attain rapid insights from an unrivaled network of expert stakeholders to answer your specific business questions.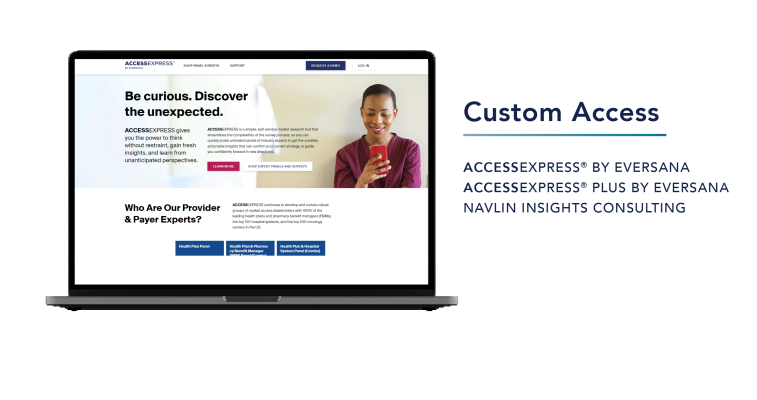 Explore NAVLIN Insights
Comprehensive. Intuitive. Integrated.
ACCESSEXPRESS® by EVERSANA
ACCESSEXPRESS lets you connect with hard-to-reach payer/provider experts and get responses directly to your inbox as your questions are answered. It is a DIY solution that lets you buy, build, and field in minutes and get answers in hours.
Do-it-Yourself:
6 unique expert survey panels with active industry experts
Customizable survey templates
Agile and intuitive interface guiding survey creation
Exportable real-time results
Personal dashboard to access responses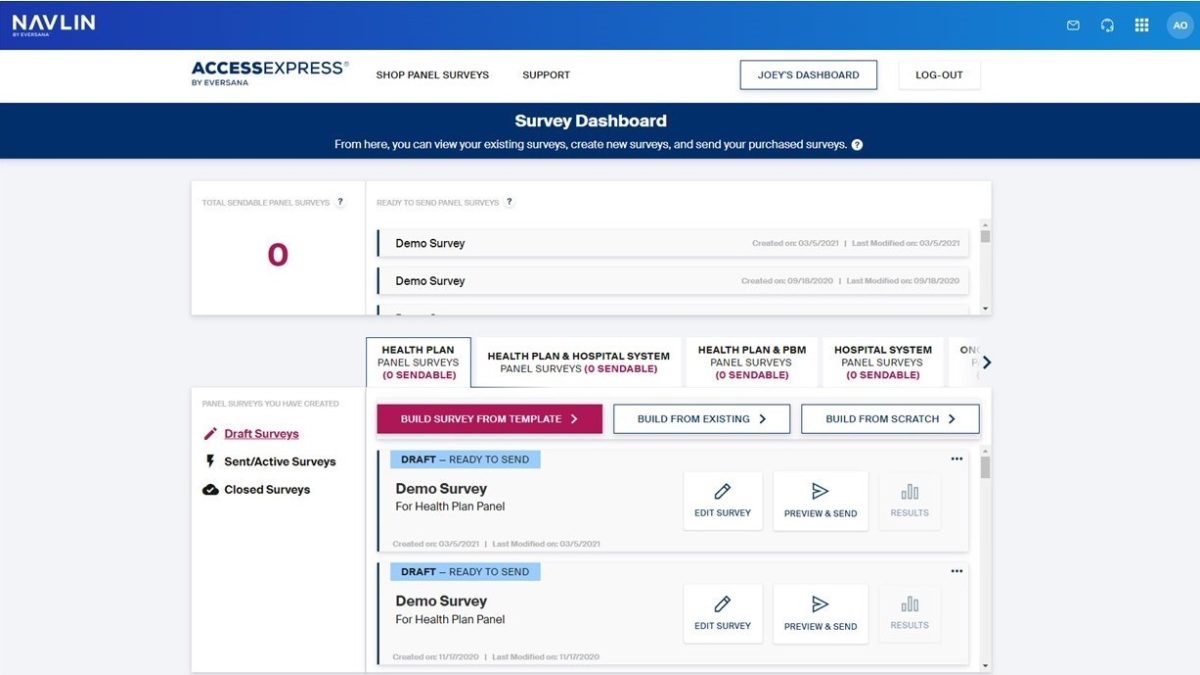 ACCESSEXPRESS PLUS
Leverage our expert team for project guidance, timely reviews, and insights. Choose the level of support that works for you with ACCESSEXPRESS PLUS.
Flexible Options:
Choose the level of support from our experts
Opportunity to rely on our team for project guidance, timely reviews, and feedback including programming, survey design, and summarized results.
Do-it-Together:
Ensure access to online meetings with HSI team
We can review and finalize survey and program together offering real time support
We assist and field survey panelists to meet specifications, select questions and survey topics to maximize results.
Work with our industry experts to summarize results and get the most out of your survey.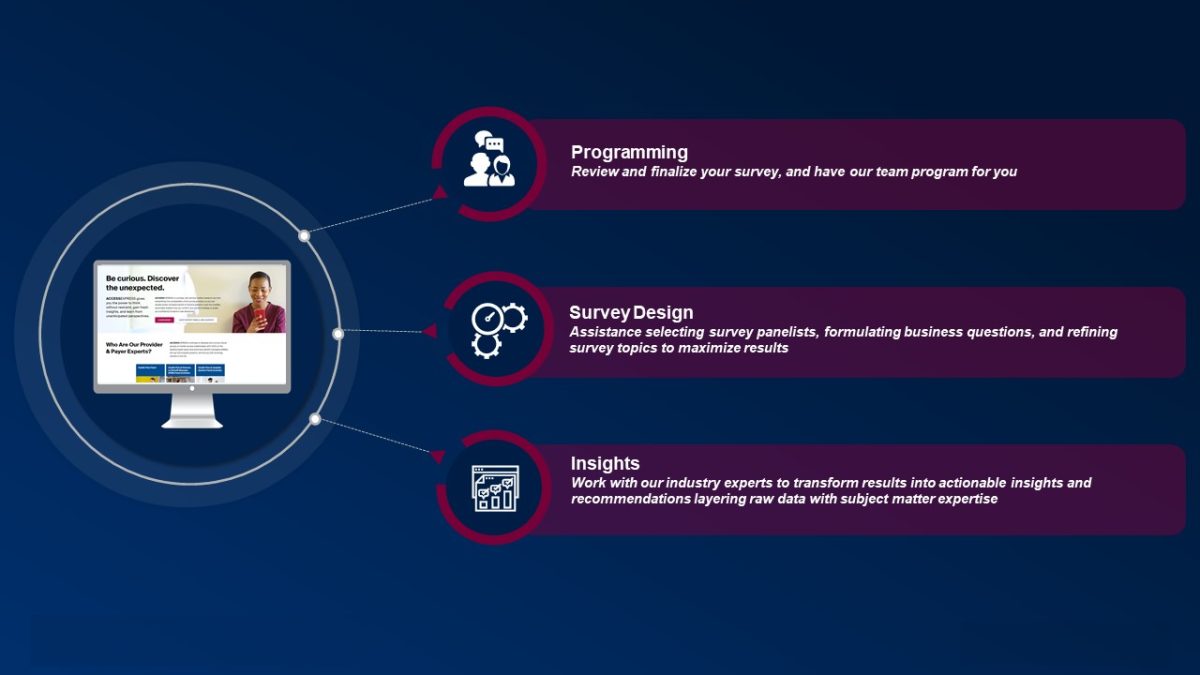 NAVLIN INSIGHTS CONSULTING
NAVLIN Insights Consulting provides an advanced set of global market capabilities, frameworks, and methods, to answer specific market driven questions throughout the product lifecycle, from clinical development to loss of exclusivity.
Capabilities include, but not are limited to:
ATU and Satisfaction
Assessment
Pricing and Reimbursement Assessments
HEOR and RWE Assessment
Customer Relationship Assessment
Opportunity & Threat Assessment
Value Prop & Payer Receptivity Testing
Specialty Product Distribution Strategy
Patient Services & HUBs Satisfaction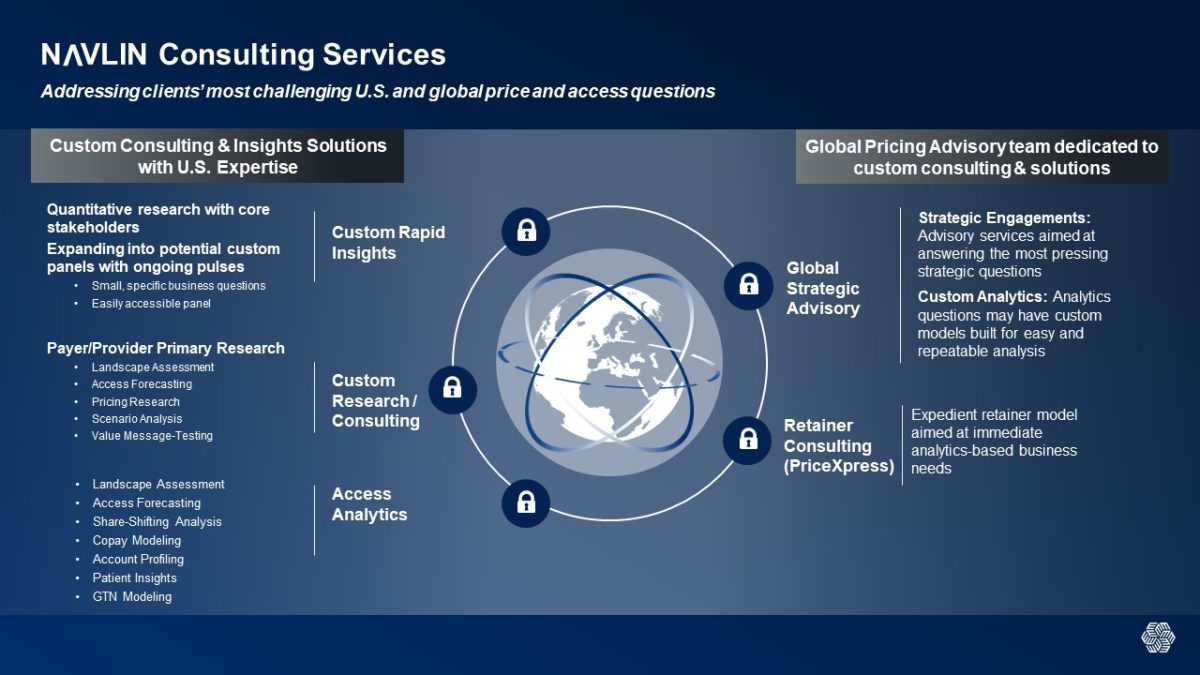 Research Sample

With NAVLIN Insights Consulting, you can fully customize your sample, screening criteria and sample size. You can choose to stick with health plans, PBMs, hospital systems, and oncology centers which are accessible through ACCESSEXPRESS, or you can target other respondents within NAVLIN Insights' panel, including specialty pharmacies, physicians, physician office staff and GPOs, among others. We can also use your target list or organizations to focus fielding on organizations most important to your needs.

Methodology

NAVLIN Insights Consulting offers flexibility in getting the insights you need. We can deliver survey insights or qualitative interviews (or both) in a timely fashion. You also have the flexibility to customize project scope to accommodate larger custom research needs. NAVLIN Insights consulting allows for a customized approach that may track changes over time, or simply meet a one-time purchasing need.

Reporting

We recognize you may have specific reporting needs for your NAVLIN Insights Consulting projects and we can customize your output based on those needs. Whether it is simply a data file or interview transcripts, an executive summary of insights or full report with additional data analysis, your consulting research team will deliver the insights you need to move you forward.
Contact Us
Talk to our team of experts to learn more and gain access